07.10.2016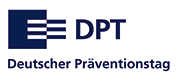 Prävention & Integration: Aktuell (67)
Weitere News zu dem Thema
pufii.de – Newsletter, 07.10.2016 - For English version please see below!
Sehr geehrte Damen und Herren,
heute erhalten Sie die aktuelle Ausgabe des Newsletters von pufii.de. Das Bundesamt für Migration und Flüchtlinge (BAMF) hat die Antragsfrist für Förderungen von Multiplikatorenschulungen bis zum 31. Oktober 2016 verlängert. In dieser Woche sind außerdem folgende Themen und Termine auf pufii.de dazugekommen:
Alle Veranstaltungen der kommenden Woche finden Sie hier.
Mit freundlichen Grüßen
Ihr Team von pufii.de
pufii.de finden Sie jetzt auch bei facebook und Twitter.
Dear Sir or Madam,
Welcome to this week's newsletter. Our Newsletter regularly informs you of current themes and topics on pufii.de:
For next week's events click here.
Kind regards,
Your pufii.de-Team
Ein Service des deutschen Präventionstages.
www.praeventionstag.de
Bisherige News aus dem Bereich: Prävention & Integration