International Webinars
Webinar Series "CCI - Cutting Crime Impact"
| | |
| --- | --- |
| In 2021 a series of interesting and practice-oriented online seminars are offered by the DPT-I. The English-language webinars result from the EU project Cutting Crime Impact (CCI). In this events the developed toolkits for the prevention of high-impact petty crime and the innovative methodological research practice of the project will be presented. The webinar series started in March 2021 and will run till December 2021. | |
---
Coming soon:
CCI-Prävinar #9 on November 9
CCI-Prävinar #10 in December
Abstract:
The Estonian Police and Border Guard Board (PJP) have set as one of its strategic objectives the creation of a safe environment for their citizens. Creating a safe space is about preventing crime through the design of the environment. This requires a common understanding of the role of the Estonian Police within the urban development process, and for there to be communication and collaboration between the police and local planners, architects, designers and development companies.
During the Cutting Crime Impact (CCI) project PJP created the Building Safer Cities Together tool, with the aim of developing a comprehensive, methodical and collaborative approach for the development of safe spaces following CP-UDP principles. The tool comprises of a training programme, policy guide and process protocol to enable the Estonian police to support the effective planning, design and development of safe urban environments.
Speakers: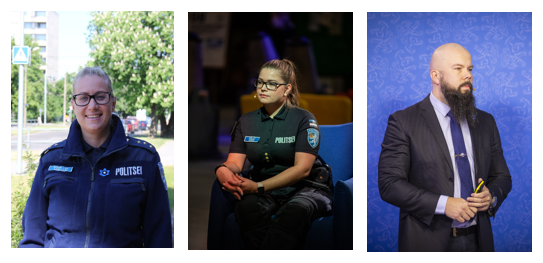 Mari-Liis Mölder is a prevention specialist at PJP who has worked in the police service for over 10 years. Mari-Liis will introduce the Building Safer Cities Together tool, present the various elements and how these support PJP in achieving their objective.
Kelly Miido works as a regional police officer at PJP. Kelly will focus on how the police implements the tool in their everyday work, presenting a case study of how the tool has been implemented in the design and development of Tondiraba Park in Talinn. She will talk about the different roles in designing safe urban environments and about cooperation with local partners.
Pärtel Preinvalt's role at PJP is in the prevention of radicalisation leading to violent extremism within the context of law enforcement. One of the challenges his team face is the safeguarding safe public spaces. He will talk about non-traditional or unconventional security threats. When planning a safe environment, law enforcement can take steps that may disturb and alarm the community: for example building temporary barriers. In the case of preventing unconventional security threats, a balance is necessary. Although it is important to create an environment where citizens feel safe, It is also critical to mitigate security threats, by implementing integrated protection solutions which may at first glance alarm citizens. Pärtel will present how the Building Safer Cities Together tool supports his work in ensuring the safety of citizens at large public events and in the prevention of unconventional security threats.
---
Abstract:
High Impact Crime (HIC) such as violent assault, robbery and burglary impact negatively on citizens and their communities. As part of the EU funded Cutting Crime Impact project (www.cuttingcrimeimpact.eu) a comprehensive, problem-oriented approach to HIC has been developed in the Netherlands by the national police, ministry, municipalities and a private research and consultancy bureau. This approach is called ProHIC. It provides methods and solutions to address HIC through a detailed manual, support materials and evidence-based 'pearls of knowledge' all available on www.ProHIC.nl.
The approach outlines a practical process for police, local authorities, residents and entrepreneurs to tackle High Impact Crime together. It starts with a thorough analysis of the problem by all stakeholders to determine precisely what the problem is, before deciding on the appropriate intervention. Defining and analysing the problem is key to the efficacy of a collaborative solution. ProHIC guides the stakeholders through the collaborative process from problem identification (scanning and analysis) to developing an action plan and evaluating it. It supports the police, relevant local and national authorities, residents and businesses to reduce and, where possible, prevent these crimes from happening.
Speakers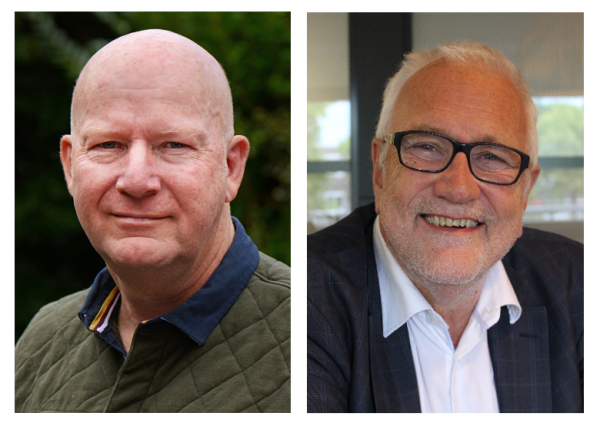 Armando Jongejan MSc studied at the University of Amsterdam. Armando Jongejan started working at the National Police of the Netherlands as a project, process, information and innovation manager. Today he is head of a Business Intelligence Division. Since 1995 he is involved with Crime Prevention Through Environmental Design. He has presented at numerous European and USA CPTED seminars and conferences and has written several international articles about the Dutch Police Label Secure Housing.
Paul van Soomeren is founder of the Amsterdam based research and consultancy bureau DSP (www.DSP-groep.eu). Paul van Soomeren worked at the national Bureau of Crime Prevention in the Netherlands for several years and is considered an international expert in Crime Prevention, specifically in Crime Prevention through Environmental Design (CPTED). At the moment Paul van Soomeren works on standardisation of CPTED and participates in the projects like Secu4All, the European Urban Agenda and Cutting Crime Impact.
---
Abstract
"The single biggest problem in communication is the illusion that it has taken place." George Bernard Shaw
As part of the EU-funded Cutting Crime Impact (CCI) project, the State Office of Criminal Investigation (LKA) in Lower Saxony, Germany, investigated the implementation and front-line use of Predictive Policing with the aim to identify issues and address shortcomings. Researchers conducted observation and interview research into the use of the LKA's PreMAP predictive system by police officers. Findings revealed that predictive data was not being used as it was not provided in a way that met the needs of officers. In addition, research found that PreMAP data was just one of many types of information that needed to be provided more systematically to officers in daily patrol briefings and shared between shifts. Observational research highlighted the fact that shortcomings in the implementation of PreMAP were not simply due to the technology, but to relevant information not being communicated in a way that supported officers in their patrolling duties.
From these insights, the LKA researchers designed and developed their PATROL Tool. This Tool is tailored to the local policing context, and includes various elements that support comprehensive information processing and more effective internal communication, enabling an intelligence-enhanced approach to patrolling.
Maurice Illi will present the PATROL tool, discussing the research that led to its development, how it works and how it supports police officers to more effectively receive, share and use information.
Dr Chiara Ryffel will present on the critical importance of information in decision-making and taking effective action. She will discuss how poor communication and a lack of information in High Reliability Organisations (HRO) can result in inadequate actions that in turn lead to critical incidents. The more precise and comprehensive information is, the better a situation can be assessed and appropriate action identified and taken. This is especially important in emergency situations where decisions and actions must be taken speedily. By focusing on providing employees with the information, resources and equipment they need, organisations can better create and enhance safety.
Speakers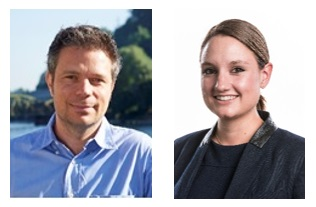 Maurice Illi is a sociologist and works as a consultant for urban security at Basler & Hofmann AG in Zurich. Since 2021, he has been involved in the EU-funded Cutting Crime Impact (CCI) project at the Competence Center for Urban Security (KURBAS) at the State Office of Criminal Investigation (LKA) in Lower Saxony, Germany. From 2014 to 2016, he was a private lecturer in sociology, social policy and social work at the University of Fribourg. From 2007 to 2020, he was security manager of the city of Lucerne and, among other things, project manager of the Lucerne security reports. He has extensive experience in solving conflicts of use in public spaces.
Dr Chiara Ryffel works as a psychologist and human factors specialist in an assessment centre for High Reliability Organisations (HRO) at the Centre for Diagnostics, Traffic and Safety Psychology (ZDVS) at the Zurich University of Applied Sciences (ZHAW). Previously, she was a lecturer, research associate and project manager at the Centre for Aviation (ZAV) at ZHAW where she conducted research in the field of human performance and developed simulation-based training for HROs.
---
Abstract
Prof Dr Jan Üblacker will open the webinar with an urban sociological perspective: "Starting from a vacuum created by restructuring police authorities and their areas of responsibility, many major German cities established or expanded municipal public order services, which resemble the appearance of state police forces, but have different tasks, competences, and resources. As their practical orientation is influenced much more by local politics, public opinion and spatial distribution of disorder, questions arise on how these city-specific cultures of control are related to neighbourhood change."
Afterwards Melanie Schlüter and Dr Anke Schröder will present INSIGHT, a tool which delves into subjective safety and security. Factors like public opinion or the spatial distribution of disorder in a neighborhood affect the perception of safety of citizens and create complex challenges for state and municipal actors. Subjective security in urban spaces requires knowledge about the emergence and effects of fear of crime and about the design and use of public space. Results are prepared for implementation in such a way that these can be used by crime prevention practitioners. Within the context of the international EU project Cutting Crime Impact (CCI), the INSIGHT tool was developed to enable these actors to measure and - if possible - mitigate citizens' feelings of insecurity and fear of crime. Following the human-centered design approach, the tool is intended to provide a holistic, spatial and systematic process for measuring perceptions of (in)security and focuses on the perspective and demands of the users.
Speakers

Melanie Schlüter is a sociologist and educational scientist. She currently works as a research associate at the Criminological Research (KFS) of the State Office for Criminal Investigation of Lower Saxony in the Cutting Crime Impact project. Here she works on measuring and mitigating citizens' feelings of insecurity and fear of crime. Her original background is in radicalisation and extremism research. Until mid-2020, she worked at the Institute for Interdisciplinary Research on Conflict and Violence at Bielefeld University on several projects on the topics of radicalisation and extremism, as well as on youth and socialisation.
Prof Dr Jan Üblacker is Professor for Housing and Neighbourhood Development at the EBZ Business School, University of Applied Science in Bochum/Germany. His research focuses on urban sociology, social inequality, housing and gentrification.
As an architectural sociologist Dr Anke Schröder is responsible for the Centre of Competence of Urban Security in the Criminological Research at the State Office for Criminal Investigation of Lower Saxony. She is involved in several international and national research projects in the field of crime prevention in urban design and planning. Her interest is to bring research approaches into daily practice of police and planning and abroad.
---
Abstract
Determining objectively the level of insecurity is very hard to do with no correlation between actual risks, offences and the perception of security. This is despite the efforts of many academics and practitioners who have stressed that the existence of an objective security has to be dealt with. Low levels of security incidents can coincide with feelings of insecurity. These feelings of insecurity are relevant, as they can impact on everyday life. People that feel unsafe tend to isolate, to avoid common spaces and become consequently more unsafe. Authorities should tackle outbreaks that lead to feelings of insecurity regardless of the level of the incident. Low levels of subjective security constitute a public problem because it can cause cities to decline. It is important to understand the grounds that make people feel unsafe and how different societal groups are affected by it. Otherwise, authorities won't be able to employ adequate measures to reverse the situation, as they won't be aware that they should target specific people and places.
In this webinar we will introduce two instruments devised to check the perceptions of insecurity in different areas/groups:
We will look at the Ministry of Interior of Catalonia, within the framework of the Cutting Crime Impact (CCI) Project, who have created the toolkit "Perception matters". It is a practical guide to orientate practitioners, firstly in the detection of the grounds of insecurity outbreaks and, secondly, to provide adequate responses that can tackle problems. It is based on the principle that everything that makes people unsafe should be tackled, regardless of if it is a crime, incivilities or disorders.
The structure of the CPTED 'Cloud of Dreams' workshop will also be described, as well as the main historical milestones from its inception in 2006 to the present day, and the types of information obtained from its application. 'Cloud of Dreams' is thought to give a voice to both boys and girls in the Latin American and Caribbean Region regarding their environmental preferences, needs and possibilities for urban intervention. This allows the perceptions of the young population are taken into account in urban planning.
Speakers

Dr Francesc Guillén Lasierra is Head of Projects and Organisation at the Catalan Ministry of Interior (as from 2004). He has been Executive Director of CIFAL Barcelona (2007-2009) and member of the Steering Committee of the Platform Police for Urban Development (January—December 2010). Lecturer on Constitutional Law at the Autonomous University of Barcelona and the Open University of Catalonia as from 1989 and 1999. Lecturer on "Police and Security" at the UAB Criminology Studies and the Open University of Catalonia from 2010 to 2019. Honoris Causa Doctor by the Mexican Society of Criminology. He has published numerous articles and books.
Dr Macarena Rau Vargas is President of the International CPTED Association (ICA); Architect, Magister and PHD in Architecture and Urbanism. Has extensive experience leading Urban Security Projects and Initiatives, both public and private, in Chile and in various countries of Latin America and the Caribbean. Specialist in the CPTED (Crime Prevention Through Environmental Design) methodology with proven success in diagnosis, design, execution and evaluation of Violence and Crime Prevention projects from an Environmental perspective.
---
Abstract
One of the main challenges in community policing (CP) relates to the need to build safer neighbourhoods through the establishment of effective and trustful relationships between police and citizens. The model of community policing in Lisbon, applied by the Lisbon Municipal Police (LMP) since 2009, has been built from the involvement of local partners and citizens in safety partnerships and their active participation in the planning process of putting in place CP projects in Lisbon neighbourhoods. This policing model is challenging both to the partnership as well as to police organization since it requires a long term engagement by community as well as the internal support from the police organisation to a model of policing often seen as social work rather than "real" police work.
The webinar will first provide an overview of typical challenges for community policing, framing the model used in Lisbon, in contrast to policing models throughout the Anglophone world, for its specificities in facing those challenges. Then, the webinar will focus on the results of the research carried out by the LMP under the EU-funded Project Cutting Crime Impact (CCI). The findings revealed the need for senior level police engagement in the planning process of CP, and the tool "Lisbon Community Policing - Safer Communities" was developed. This tool contains a set of specific communication and planning instruments designed to support and engage key decisionmakers in CP delivery. ​
Speakers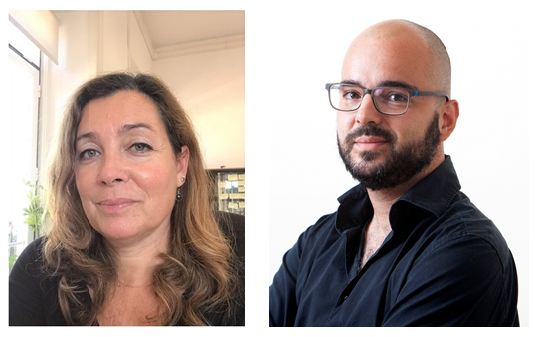 Mónica Diniz is a sociologist, Head of the Prevention, Security and International Relations of the Lisbon Municipal Police. Monica has a Masters in Sociology and Planning and has been developing her work in the area of Police-Citizen cooperation with a main focus on the implementation of bottom-up collective approaches for crime-prevention and community policing projects. Monica has been working on the methodological transferability of the community policing model both in national and international contexts, namely in cooperation with the Council of Europe. She participates in projects on international cooperation in the field of Community Policing, Crime Prevention through Urban Design & Planning and Intercultural approach on security and safety issues. Monica also trains CP officers and is co-author of several publications on Community Policing.
Simone Tulumello is assistant research professor at the University of Lisbon, Institute of Social Sciences. Simone's research interests span at the border between planning research, human geography and critical urban studies; security, fear and urban violence; housing policy and politics; austerity and neoliberal urban policy; Southern European and Southern US cities. In particular, Simone is interested on how local security policymaking - including approaches to policing - is shaped at the intersection of political traditions, neoliberalisation of policy and multilevel institutional arrangements. His first monograph, Fear, Space and Urban Planning: A Critical Perspective from Southern Europe, was published in 2017 by Springer.
---
Abstract
Effective community engagement is critical to neighbourhood policing: it provides scope for officers and staff to establish collaborative relationships with citizens and partners, gain knowledge of a local area and address its security issues. Officers and staff often work within the same neighbourhood for several years. During this time, they build key connections in their community and acquire unique knowledge of the local area, its residents, its issues and dynamics. When neighbourhood officers and staff move to another post and leave their local area, this unique resource of knowledge and relationships leaves with them. At frontline level, turnover can compromise local knowledge and jeopardise trust relationships with citizens and partners.
Following an overview of neighbourhood policing within the wider UK context, this webinar will focus on the experience of Greater Manchester Police (GMP), one of the police organisations involved in the EU-funded Cutting Crime Impact (CCI).
As part of the CCI, GMP has worked on researching and developing an evidence-based Tool in neighbourhood policing, by adopting a human-centred design approach. This webinar will discuss the research carried out by GMP and it will present the "Community Connect" Tool, a handover protocol specifically designed for neighbourhood policing roles.
The webinar will also share insights gained through the CCI experience into the challenges police forces face in ensuring continuity of community engagement and maintaining long-term commitment to neighbourhood policing.
Speakers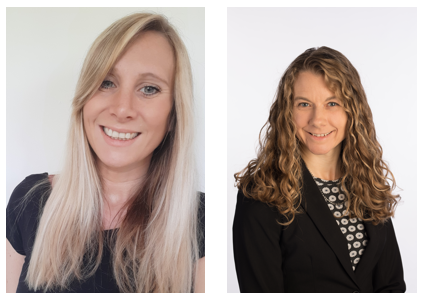 Dr Roberta Signori holds a PhD in Applied Sociology and Methodology of Social Research from the University of Milan-Bicocca, where she specialised in qualitative research methods. Her PhD research focussed on organisational changes in the surveillance regime in Italian prisons, and their impact on the wellbeing of prison officers. Roberta Signori worked as a Researcher for the Directory of Social Change (DSC) in Liverpool, where she conducted bespoke research for UK charities seeking to demonstrate the impact of their projects and improve their services. She joined Greater Manchester Police in April 2019 as a CCI Research Fellow and since then she has worked full time on researching and developing an evidence-based toolkit in Community Policing, as part of the EU-funded Cutting Crime Impact (CCI) project. Her research interests include law enforcement agencies, prisons and surveillance regimes, assessment and evaluation of social interventions, and crime prevention.
Dr Megan O'Neill is a Reader in the School of Social Sciences at the University of Dundee and an Associate Director of the Scottish Institute for Policing Research (SIPR). Her work focuses on aspects of police culture, stop and search, community policing, public sector pluralisation in policing and surveillance practices of the state.
---
Abstract
The delivery of security appears increasingly dominated by technology-focused solutions derived from technology-centred thinking. While there is debate on the relevant merits of 'soft' and 'hard' security approaches, the truth is that, depending on the context, delivering everyday security — for example, through effective policing — requires both. Tension exists between a need for humanised, community-oriented and collaborative approaches to constructing security and the top-down, increasingly technology-driven desire to 'militarise' policing.
Davey and Wootton will share insights gained over the last two decades in using a human-centred design approach to tackling issues of security. Their EU-funded project Cutting Crime Impact (CCI) has developed new Tools to support police process and system improvements — from the training, briefing and management of police officers to the delivery of crime prevention advice. Davey and Wootton will discuss how a more human-centred approach has enabled a rethinking and reframing of problems previously described from a top-down perspective, so as to better meet the needs of end-users, be they police, policymakers or citizens.
Speakers
Prof Caroline L. Davey & Andrew B. Wootton, Directors of the Design Against Crime Solution Centre, University of Salford (UK), Coordinator of EU Cutting Crime Impact project
| | | |
| --- | --- | --- |
| | | |
Professor Caroline Davey and Andrew Wootton are co-directors of the Design Against Crime Solution Centre — a unique design research partnership with Greater Manchester Police, the Landeskriminalamt Niedersachsen (DE) and DSP-groep b.v. (NL). For the past 20 years, Caroline and Andrew have led research into the use of evidence-based design to create human-centred product and service solutions to societal challenges. They are currently leading the €3m European Commission funded research programme Cutting Crime Impact (CCI). CCI is working with six law enforcement agencies across Europe — including the Dutch and Estonian national police forces, Lisbon Police, German police in Lower Saxony and Spanish police in Catalonia. Over a period of three years CCI will research and develop products / services that address high impact crime and security issues. The project will also embed human-centred product development capability within project partner organisations (www.cuttingcrimeimpact.eu). In collaboration with key stakeholders and industry partners, Caroline and Andrew led the research and product development work that resulted in ProtectED Community Interest Company (CIC)—a design-led social enterprise that seeks to improve the safety, security and wellbeing of university students by raising standards across the higher education sector (www.protect-ed.org). Caroline and Andrew have published widely on the use of human-centred design to address issues related to social responsibility, and were invited to author a volume of Gower's seminal Socially Responsible Design series. Design Against Crime: A human-centred approach to safety and security outlines the development of Design Against Crime in the UK, and its wider impact on design research, practice and policy across Europe.
---
---
Records of past online seminars
The Institute of the German Prevention Congress (DPT-I) and the Radicalisation Awaress Network (RAN) has offered a series of webinars (online-seminars). Several aspects of radicalisation are explained and discussed. The Webinars were held in English language. You can find a documentation of the webinars below.
For the webinars in german language see the german website.
Webinar#4: The role of communities in prevention of radicalization
Recording of the Webinar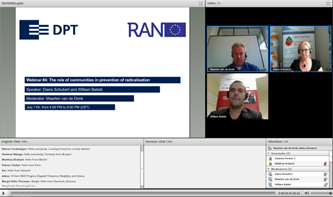 Presentation of William Baldet
Leicester CVE Coordinator, UK
Presentation of Diana Schubert
City of Augsburg, Department of public order, health and sports
On July 11th from 4 to 5 pm a webinar was held on the role of communities in prevention of radicalization by Deutsche Präventionstag and the Radicalisation Awareness Network.
Engagement with and empowerment of communities are critical in the prevention of radicalisation leading to violent extremism. Communities and families within there can offer support and guidance within the community. Moreover they can play a role in challenging extremist narratives and messages and provide for alternative narratives. When it comes to people at risk of radicalisation, communities can also be a wealth of knowledge and can provide information that could help authorities. Communities need also receive support and be listened to when extremism contributes to grieve, vulnerability and fear.
Establishing trust-based relationship communities is essential to be able to engage and empower them. A vital element of community engagement is a reciprocal and transparent relationship between communities and statuary bodies/local authorities. Reciprocal means that grievances and practical needs of the communities should also be addressed. Being transparent in the motives for and throughout the process of engagement, will also increase the chance of establishing a trust-based relationship.
How are cities dealing with communities when it comes to the delicate subject of radicalisation? That is the topic of our upcoming webinar on 11 July from 4 to 5 pm (Brussels time). Two experts who work on the grass root level will speak about their experiences regarding engaging and working with communities: Diane Schubert from Augsburg (Germany) and William Baldet from Leicester UK.
Webinar#03 The role of community policing in prevention of radicalisation
Recording of the Webinar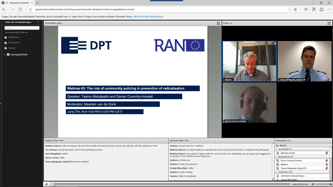 Presentation of Darren Coventry-Howlett
Garda Racial, Intercultural and Diversity Office
Presentation of Teemu Metsäpelto
Chief Inspector, M. Soc. Sc.
On June 27th from 4 to 5 pm a webinar was held on the role of community policing in prevention of radicalisation by Deutsche Präventionstag and the Radicalisation Awareness Network.
The presence of police in neighborhoods is going beyond gaining information, patrolling and acting in the name of law. Having contact, building partnerships with individuals and communities and stakeholders is key to work jointly on prevention and on joint ownership of safety related issues. This doesn't apply to 'ordinary' criminal issues like shop lifting or street violence. Also for prevention of radicalisation community policing is key. As the first signals of radicalisation tend to be visible on the grass root level local police officers are in the frontline of the phenomenon. A special challenge for community policing in general and even more when it comes to radicalisation is the relationship between the police and vulnerable communities. Often the level of trust in authorities and police is smaller here. With the topic of radicalisation a very sensitive matter is raised which requires a cautious and well thought approach.
The webinar will show examples of community policing dealing with radicalisation throughout Europe. Speaker will be Teemu Metsäpelto, Chief Inspector in Helsinki Police Department, Preventive Policing Unit. He has a strong background of community and preventive policing in the capital of Finland. Preventive Policing Unit was founded 2012 and it has done a broad cooperation with the law enforcement authorities, other authorities, NGOs, associations, multilingual, multicultural and religious communities as well as citizens of Helsinki to enhance the security of the city and to prevent phenomena that are endangering security. In his daily work Metsäpelto has focused on the work with the Muslim communities in Helsinki, as well as the prevention of violent radicalism and extremism, especially in the multilingual and multicultural communities. Currently, Metsäpelto as a project manager, is leading a nationwide preventing policing project. He holds a Master of Social Sciences in Political History, Russian and East European Studies from University of Helsinki.
Webinar#02 Dealing with Radicalisation at Schools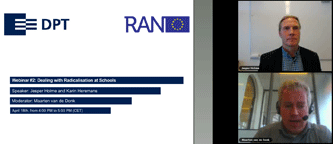 Presentation of Karin Heremans
The second webinar was held at the 18th of April 2016 by Jesper Holme and Karin Heremans. Later adolescence and early adulthood are regarded as vulnerable periods for radicalisation processes. For this reason secondary schools can be places where youngsters show worrying signals or even explicit radical behaviour. The present leave of youngsters for IS puts political and societal pressure on the educational systems to deal with radicalisation. How can schools handle this task and meanwhile remain a positive learning environment in which pupils and teachers feel comfortable? What could schools do to build resilience against extremist thoughts?
Jesper Holme (Aarhus, Denmark) will focus on how young people can be themselves and also be part of a greater "We". What is the connection between a good balance of personal skills and daily challenges and the motivation to think and say, what you think and mean? And what about the development of critical thinking? Since 2009 Jesper has been a part of the working group "Prevention of Radicalisation and Discrimination in Aarhus", a cooperation between East Jutlands Police, Social services and the educational system in Aarhus. Jesper is a former teacher and pedagogical leader, and he is now working for the development of the educational system and as mentor consultant under the "Aarhus model".
Karin Heremans (Antwerp, Belgium) tells how she got involved in the topic when youngsters of her school radicalised. As there was no support at that time she developed her own programme on dealing with radicalised pupils and offering them new perspectives. Apart from being director of a secondary school, this year Karin started as an expert and policy advisor on radicalisation at GO!, one of the leading Flemish educational networks. She is one of the two chairmen of the Education Working Group of the Radicalisation Awareness Network. She published several articles on the subject, most recently 'Onderwijs in tijden van onmacht' (Education in times of powerlessness), released in 'Lokroep van IS' (The lure of IS) edited by P. Loobuyck.
Webinar#01 Supporting Families in Dealing with Radicalisation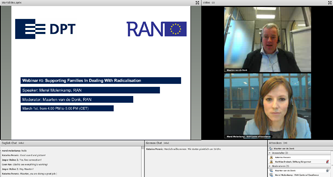 The first Webinar was held on the 1st of March 2016 by Merel Molenkamp, Consultant Radar Advies. Within the RAN Merel is part of Secretariat which supports the RAN as a whole and RAN Working Groups. Besides she is involved in different projects focused at the public and social domain and emphasis on prevent work like a pilot project to creat labour opportunities for people with a labour disability. She is also involved in strategic advice to EU Member States.
Families can be key actors in the prevention of radicalisation, can act as important agents of change and can provide enormous support structures for radicalised individuals. Family support can take place at different stages and can be provided at the first signs of growing extremism, while an individual is engaged in extremist activities or when the individual is engaging in a rehabilitation or reintegration program. This webinar discusses on some the lessons learned and best practices regarding family support.