International Webinars
Webinar series "CCI - Cutting Crime Impact"
| | |
| --- | --- |
| In 2021 a series of interesting and practice-oriented online seminars are offered by the DPT-I. The English-language webinars result from the EU project Cutting Crime Impact (CCI). In this events the developed toolkits for the prevention of high-impact petty crime and the innovative methodological research practice of the project will be presented. The webinar series has started on March 02, 2021, at 4 pm (CET). | |
---
Next:
CCI-WEBINAR No 2: THURSDAY 29 April 2021, 4-5 pm (CET)
Cutting Crime Impact Part 2
by Dr Roberta Signori, Greater Manchester Police, GMP
More information and registration will be available soon.
---
CCI-WEBINAR No 1: TUESDAY 2 MARCH 2021, 4-5 pm (CET)
Cutting Crime Impact – Innovating security solutions with human-centred design
by Prof Caroline L. Davey & Andrew B. Wootton
Recording of the event in our YouTube-Channel

Abstract

The delivery of security appears increasingly dominated by technology-focused solutions derived from technology-centred thinking. While there is debate on the relevant merits of 'soft' and 'hard' security approaches, the truth is that, depending on the context, delivering everyday security — for example, through effective policing — requires both. Tension exists between a need for humanised, community-oriented and collaborative approaches to constructing security and the top-down, increasingly technology-driven desire to 'militarise' policing.
Davey and Wootton will share insights gained over the last two decades in using a human-centred design approach to tackling issues of security. Their EU-funded project Cutting Crime Impact (CCI) has developed new Tools to support police process and system improvements — from the training, briefing and management of police officers to the delivery of crime prevention advice. Davey and Wootton will discuss how a more human-centred approach has enabled a rethinking and reframing of problems previously described from a top-down perspective, so as to better meet the needs of end-users, be they police, policymakers or citizens.
Speakers
Prof Caroline L. Davey & Andrew B. Wootton, Directors of the Design Against Crime Solution Centre, University of Salford (UK), Coordinator of EU Cutting Crime Impact project
| | | |
| --- | --- | --- |
| | | |
| Professor Caroline L. Davey | | Andrew B. Wootton |
Professor Caroline Davey and Andrew Wootton are co-directors of the Design Against Crime Solution Centre — a unique design research partnership with Greater Manchester Police, the Landeskriminalamt Niedersachsen (DE) and DSP-groep b.v. (NL). For the past 20 years, Caroline and Andrew have led research into the use of evidence-based design to create human-centred product and service solutions to societal challenges. They are currently leading the €3m European Commission funded research programme Cutting Crime Impact (CCI). CCI is working with six law enforcement agencies across Europe — including the Dutch and Estonian national police forces, Lisbon Police, German police in Lower Saxony and Spanish police in Catalonia. Over a period of three years CCI will research and develop products / services that address high impact crime and security issues. The project will also embed human-centred product development capability within project partner organisations (www.cuttingcrimeimpact.eu). In collaboration with key stakeholders and industry partners, Caroline and Andrew led the research and product development work that resulted in ProtectED Community Interest Company (CIC)—a design-led social enterprise that seeks to improve the safety, security and wellbeing of university students by raising standards across the higher education sector (www.protect-ed.org). Caroline and Andrew have published widely on the use of human-centred design to address issues related to social responsibility, and were invited to author a volume of Gower's seminal Socially Responsible Design series. Design Against Crime: A human-centred approach to safety and security outlines the development of Design Against Crime in the UK, and its wider impact on design research, practice and policy across Europe.
Recording of the event in our YouTube-Channel
---
---
Records of past online seminars
The Institute of the German Prevention Congress (DPT-I) and the Radicalisation Awaress Network (RAN) has offered a series of webinars (online-seminars). Several aspects of radicalisation are explained and discussed. The Webinars were held in English language. You can find a documentation of the webinars below.
For the webinars in german language see the german website.
Webinar#4: The role of communities in prevention of radicalization
Recording of the Webinar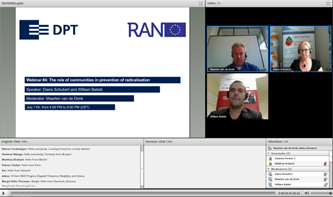 Presentation of William Baldet
Leicester CVE Coordinator, UK
Presentation of Diana Schubert
City of Augsburg, Department of public order, health and sports
On July 11th from 4 to 5 pm a webinar was held on the role of communities in prevention of radicalization by Deutsche Präventionstag and the Radicalisation Awareness Network.
Engagement with and empowerment of communities are critical in the prevention of radicalisation leading to violent extremism. Communities and families within there can offer support and guidance within the community. Moreover they can play a role in challenging extremist narratives and messages and provide for alternative narratives. When it comes to people at risk of radicalisation, communities can also be a wealth of knowledge and can provide information that could help authorities. Communities need also receive support and be listened to when extremism contributes to grieve, vulnerability and fear.
Establishing trust-based relationship communities is essential to be able to engage and empower them. A vital element of community engagement is a reciprocal and transparent relationship between communities and statuary bodies/local authorities. Reciprocal means that grievances and practical needs of the communities should also be addressed. Being transparent in the motives for and throughout the process of engagement, will also increase the chance of establishing a trust-based relationship.
How are cities dealing with communities when it comes to the delicate subject of radicalisation? That is the topic of our upcoming webinar on 11 July from 4 to 5 pm (Brussels time). Two experts who work on the grass root level will speak about their experiences regarding engaging and working with communities: Diane Schubert from Augsburg (Germany) and William Baldet from Leicester UK.
Webinar#03 The role of community policing in prevention of radicalisation
Recording of the Webinar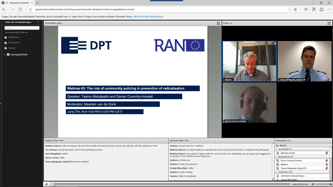 Presentation of Darren Coventry-Howlett
Garda Racial, Intercultural and Diversity Office
Presentation of Teemu Metsäpelto
Chief Inspector, M. Soc. Sc.
On June 27th from 4 to 5 pm a webinar was held on the role of community policing in prevention of radicalisation by Deutsche Präventionstag and the Radicalisation Awareness Network.
The presence of police in neighborhoods is going beyond gaining information, patrolling and acting in the name of law. Having contact, building partnerships with individuals and communities and stakeholders is key to work jointly on prevention and on joint ownership of safety related issues. This doesn't apply to 'ordinary' criminal issues like shop lifting or street violence. Also for prevention of radicalisation community policing is key. As the first signals of radicalisation tend to be visible on the grass root level local police officers are in the frontline of the phenomenon. A special challenge for community policing in general and even more when it comes to radicalisation is the relationship between the police and vulnerable communities. Often the level of trust in authorities and police is smaller here. With the topic of radicalisation a very sensitive matter is raised which requires a cautious and well thought approach.
The webinar will show examples of community policing dealing with radicalisation throughout Europe. Speaker will be Teemu Metsäpelto, Chief Inspector in Helsinki Police Department, Preventive Policing Unit. He has a strong background of community and preventive policing in the capital of Finland. Preventive Policing Unit was founded 2012 and it has done a broad cooperation with the law enforcement authorities, other authorities, NGOs, associations, multilingual, multicultural and religious communities as well as citizens of Helsinki to enhance the security of the city and to prevent phenomena that are endangering security. In his daily work Metsäpelto has focused on the work with the Muslim communities in Helsinki, as well as the prevention of violent radicalism and extremism, especially in the multilingual and multicultural communities. Currently, Metsäpelto as a project manager, is leading a nationwide preventing policing project. He holds a Master of Social Sciences in Political History, Russian and East European Studies from University of Helsinki.
Webinar#02 Dealing with Radicalisation at Schools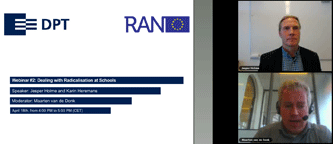 Presentation of Karin Heremans
The second webinar was held at the 18th of April 2016 by Jesper Holme and Karin Heremans. Later adolescence and early adulthood are regarded as vulnerable periods for radicalisation processes. For this reason secondary schools can be places where youngsters show worrying signals or even explicit radical behaviour. The present leave of youngsters for IS puts political and societal pressure on the educational systems to deal with radicalisation. How can schools handle this task and meanwhile remain a positive learning environment in which pupils and teachers feel comfortable? What could schools do to build resilience against extremist thoughts?
Jesper Holme (Aarhus, Denmark) will focus on how young people can be themselves and also be part of a greater "We". What is the connection between a good balance of personal skills and daily challenges and the motivation to think and say, what you think and mean? And what about the development of critical thinking? Since 2009 Jesper has been a part of the working group "Prevention of Radicalisation and Discrimination in Aarhus", a cooperation between East Jutlands Police, Social services and the educational system in Aarhus. Jesper is a former teacher and pedagogical leader, and he is now working for the development of the educational system and as mentor consultant under the "Aarhus model".
Karin Heremans (Antwerp, Belgium) tells how she got involved in the topic when youngsters of her school radicalised. As there was no support at that time she developed her own programme on dealing with radicalised pupils and offering them new perspectives. Apart from being director of a secondary school, this year Karin started as an expert and policy advisor on radicalisation at GO!, one of the leading Flemish educational networks. She is one of the two chairmen of the Education Working Group of the Radicalisation Awareness Network. She published several articles on the subject, most recently 'Onderwijs in tijden van onmacht' (Education in times of powerlessness), released in 'Lokroep van IS' (The lure of IS) edited by P. Loobuyck.
Webinar#01 Supporting Families in Dealing with Radicalisation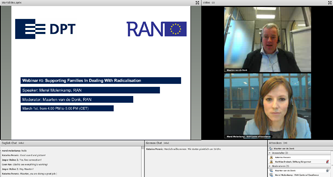 The first Webinar was held on the 1st of March 2016 by Merel Molenkamp, Consultant Radar Advies. Within the RAN Merel is part of Secretariat which supports the RAN as a whole and RAN Working Groups. Besides she is involved in different projects focused at the public and social domain and emphasis on prevent work like a pilot project to creat labour opportunities for people with a labour disability. She is also involved in strategic advice to EU Member States.
Families can be key actors in the prevention of radicalisation, can act as important agents of change and can provide enormous support structures for radicalised individuals. Family support can take place at different stages and can be provided at the first signs of growing extremism, while an individual is engaged in extremist activities or when the individual is engaging in a rehabilitation or reintegration program. This webinar discusses on some the lessons learned and best practices regarding family support.