Congress 2020 / 14th Annual International Forum
News: Congress 2020 / 14th AIF and COVID-19 (Coronavirus SARS-CoV-2) - Congress postponed!
The 25th German Prevention Congress will unfortunately not take place on 27 and 28 April 2020. The congress will be postponed to 28 and 29 September 2020.
The preventive intention behind this cancellation is explicitly supported by the German Prevention Congress. There are plausible reasons to assume that the cancellation of current major events will slow down the spread of the COVID-19 virus.
In June we will inform you here on this page as well as in the DPT-internal newsletter about the updated congress planning.
Stay healthy or become healthy again quickly!
---
The next German Prevention Congress – DPT (former name: German Congress on Crime Prevention – GCOCP) will take place on
28/29 September 2020
.
Congress Programme
You can view the contributions of the International Forum planned for the original date here.
The thematic focus will be "Smart Prevention – Prevention in the Digital World".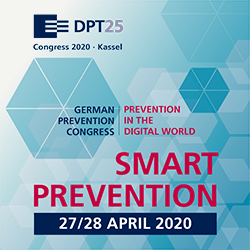 Background: The digital revolution is fundamentally changing our everyday lives and the way people live together. Direct effects on the prevention of violence and crime are obvious. New phenomena are emerging that require new answers. Established responses – from the criminal law classification to the appropriate prevention strategy – are not (yet) available at many points. Much remains open, which leads to uncertainties and fears. On the other hand there are various new opportunities that need to be identified and exploited. Thus, the 25. German Prevention Congress will devote itself to the prevention in the digital world in order to approach a vision of a "smart prevention".
For current information about the Congress we suggest to subscribe to our free newsletter.