Congress 2020 / 14th Annual International Forum
The next German Prevention Congress – DPT (former name: German Congress on Crime Prevention – GCOCP) will take place in Kassel (Hesse) on 27/28 April 2020.
Call for papers – Application phase has started
We look forward to your participation in the congress! Use the online application forms to contribute with lectures and in the exhibition.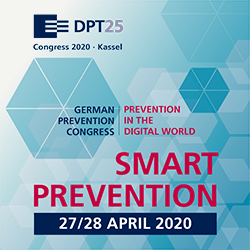 The thematic focus will be "Smart Prevention – Prevention in the Digital World".
Background: The digital revolution is fundamentally changing our everyday lives and the way people live together. Direct effects on the prevention of violence and crime are obvious. New phenomena are emerging that require new answers. Established responses – from the criminal law classification to the appropriate prevention strategy – are not (yet) available at many points. Much remains open, which leads to uncertainties and fears. On the other hand there are various new opportunities that need to be identified and exploited. Thus, the 25. German Prevention Congress will devote itself to the prevention in the digital world in order to approach a vision of a "smart prevention".
---
For current information about the Congress we suggest to subscribe to our free newsletter.