Congress 2016
The 10th Annual International Forum within the 21st German Congress on Crime Prevention will take place on the 6th and 7th of June 2016 in Madgeburg.
International experts from all areas of crime prevention are welcome to introduce, share and discuss their ideas, goals, outcomes, projects and speeches with other experts. Lectures refer to topics within the general field of crime prevention or to the thematic focus of the 21. GCOCP, which is: "Prevention and Freedom. The Necessity of a Discourse on ethical Issues". Parallel to the Congress about 200 professional organisations will present themselves with exhibits, on the Congress stage and in the film forum.
The AIF-programme dedicated to the international (non-german speaking) audience consists of the Opening Plenum and the Closing Plenum of the GCOCP, which are translated into English language. During the Congress parallel sessions contribute to the AIF-programme. Overall these are twelve sessions, which are held in English language or translated into English language. Most sessions can be offered due to close cooperation with our partners: the Deutsche Gesellschaft für Internationale Zusammenarbeit (GIZ), the Glen Mills Academie Deutschland e.V., the Korean Institute of Criminology and the Radicalisation Awareness Network (RAN).
For our international participants we also offer Guided Tours through the exhibition area in English language. If you are interested in participating in these tours please contact: aif@gcocp.org.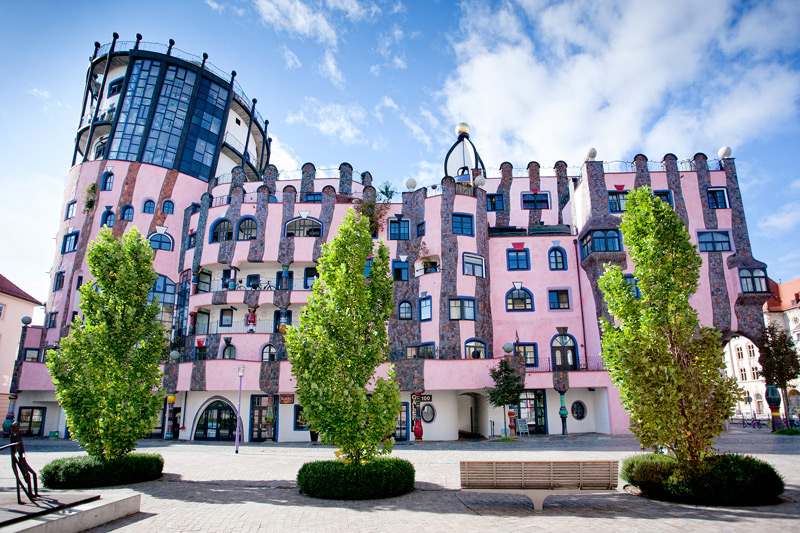 Green Citadel of Magdeburg, designed by the artist F. Hundertwasser