Congress 2019 / 13th Annual International Forum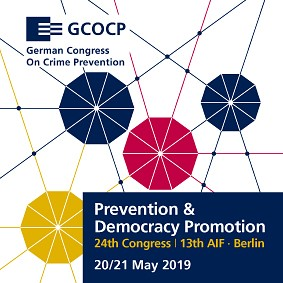 The 24th German Prevention Congress with the
13th Annual International Forum has taken place
on 20/21 May 2019 at the Estrel Congress Center in Berlin.
The congress documentation consisting of fotos, videos and lectures
will soon be available online.
---
At the 24th German Prevention Congress there was a Poster Award
for the first time. A nine-member jury of experts, consisting of the
and awarded the three best ones:
The jury evaluated the posters according to the following criteria:
Overall graphic design, clarity of message, stringency of method,
relevance for prevention work and innovative content.
---
Save the date:
The next German Prevention Congress will be
in Kassel (Hesse) on 27/28 April 2020.
For current information about the Congress we suggest
to subscribe to our free newsletter.