23.05.2022
DPT-TV: Fraud Prevention and Safety Surveys at the local level in Sweden
DPT-TV Programme of the week for our international audience:
May 25, 2022 – 11.10 am CEST
Eating the Elephant – Fighting the Fraud Menace (Ashley Jones, South West Regional Organised Crime Unit (SWROCU))
Fraud currently accounts for at least 40% of all reported crimes in the UK. Some of those at most risk of victimisation are vulnerable through loneliness and isolation. Chronically lonely citizens suffer increased ill health and poor social outcomes, as well as increased prevalence of involvement with deception-type frauds due to the victim's desire to decrease social isolation through engagement and interaction with the fraud criminal – in short, the criminal takes advantage of the victim's vulnerability to gain their trust to steal their money.
May 25, 2022 – 11.40 am CEST
Local safety Measurement system during 25 years – Lesson learnt from 1.200.000 responses in Sweden from the public (Kjell Elefalk, Trygghet och Management AB)
For 24 years, the police, municipality and other actors have conducted survey studies of victimisation to crime. The presentation is to provide an overview of an existing results in Sweden during the period 1998-2022 to measure this specific crime types on a large scale with about over 1000,000 of respondents' answers. An important advantage of this kind of surveys conducted is that the collection method, response method and questionnaire are unchanged. The results are undeniable. A dramatic reduction in the proportion of 16–85-year-olds exposed to volume crime in the 21st century.
Register and get access to the live-streamed DPT-TV lectures every week. Once registered you can watch all recorded lectures whenever it suits you best.
The registration gives you access to the online DPT-TV from April till November this year and serves as the ticket for our in-situ congress in Hannover, Germany, on October 4th & 5th.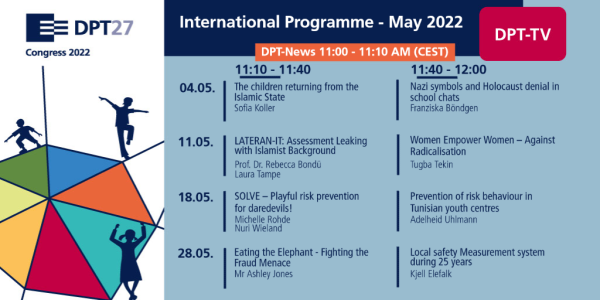 Ein Service des deutschen Präventionstages.
www.praeventionstag.de