16.05.2022
DPT-TV: Playful risk prevention for daredevils!
DPT-TV Programme of the week for our international audience:
May 18, 2022 – 11.10 am CEST
Lecture: SOLVE – Playful risk prevention for daredevils! (Nuri Wieland & Michelle Rohde, Catholic University of Applied Sciences NRW)
Entertainment and serious games are playing an increasing role in the field of prevention and health promotion. They enable new approaches in professional and voluntary work, especially with younger target groups. In the BMBF-funded project SOLVE, psychologists and game designers have jointly developed a digital game-based intervention to reduce harmful substance use and risky behaviour. The intervention is aimed at young people between the ages of 13 and 16 with increased impulsivity and/or sensation seeking. In a new way, a personality-focused prevention approach is combined with a medium popular among young people – digital games. Furthermore, behavioural therapy and motivational interviewing methods are used in the intervention. The development and testing of the new intervention require an intensive interdisciplinary examination of various aspects of the target group and the medium. Concrete findings and experiences from the SOLVE research project as well as the latest scientific results from the fields of game design, digital methods and health promotion will be presented.
May 18, 2022 – 11.40 am CEST
Project Presentation: Prevention of risk behaviour in Tunisian youth centres (Adelheid Uhlmann, GIZ)
The BMZ project "Strengthening Youth Policy and Participation in Tunisia" supports the Ministry of Youth and Sports, among others, in developing a concept and pedagogical tools for the prevention of risky behaviour in Tunisian youth centres. The Practice Impulse explains the broad lines of a tool and presents some task types specifically developed for the Tunisian context for the inspiration of practitioners.
Register and get access to the live-streamed DPT-TV lectures every week. Once registered you can watch all recorded lectures whenever it suits you best.
The registration gives you access to the online DPT-TV from April till November this year and serves as the ticket for our in-situ congress in Hannover, Germany, on October 4th & 5th.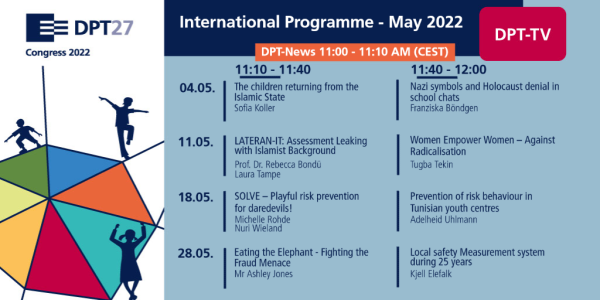 Ein Service des deutschen Präventionstages.
www.praeventionstag.de