Violence Prevention Alliance (VPA)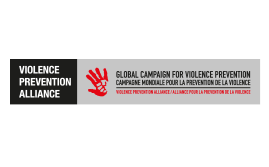 The Violence Prevention Alliance (VPA), which is led by the World Health Organization, is a network of governmental organizations, international agencies, nongovernmental organizations, and research institutions working to prevent violence.
VPA participants are committed to an evidence-based public health approach that targets the risk factors leading to violence and promotes multi-sectoral cooperation. The VPA aims to contribute to the implementation of the violence-related sustainable development goals, in particular targets 16.1, 16.2 and 5.2 and concentrates primarily on interpersonal violence – including child maltreatment, youth violence, intimate partner and sexual violence, and elder abuse.
The VPA was officially launched in January 2004 at the first Milestones in a Global Campaign for Violence Prevention meeting. Since then the VPA has grown from a dozen participants to over 70 today and includes participants such as the US Centers for Disease Control and Prevention, the United Nations Development Programme (UNDP), the United Nations Children's Fund (UNICEF), the United Nations Office on Drugs and Crime (UNODC), the World Bank, the International Federation of Red Cross and Red Crescent Societies, and the Deutsche Gesellschaft für Internationale Zusammenarbeit (GIZ).
The VPA provides an opportunity for various types of organizations (governmental, non-governmental , research, and private) from all sectors (health, justice, education) with an international reach to unite around a shared vision and approach to violence prevention that works both to address the root causes of violence and to improve services for victims.
Webseite: www.who.int/groups/violence-prevention-alliance/about
Zurück zur Übersicht